Tadka Dal Recipe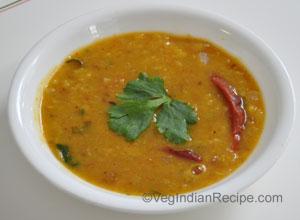 Serves 4 people
45 minutes
Tadka dal is very simple everyday dish, served with rice or any indian bread. Tadka dal is lentil tempered with a cumin seeds, chilies, curry leaves. It is prepared throughout India. Dal is one of the major sources of protein in Indian vegetarian meal.
Method:
In a pressure cooker, add dal, tomatoes, turmeric powder, salt and 3 cups of water.
Cook for 4 whistles turn off heat and let it cool down for 10 minutes.
Heat oil in a pan, add the cumin seeds wait until seeds crack.
Then add asafoetida, dry whole red chilies, curry leaves and onions.
Saute for 2 to 3 minutes until onions are soft.
Add cooked dal and mix well. Simmer for few minutes on medium heat.
Garnish wtih cilantro and serve with rice.