Paneer Swirls Recipe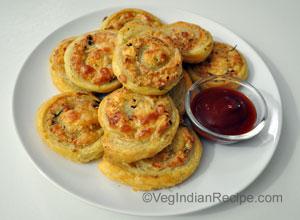 Serves 5 people
40 minutes
Paneer Swirls are elegant, sure-to-impress your kids. Paneer, mozzarella cheese, cilantro and chat masala, wrapped in flaky pastry and baked.
Method:
Heat the oven to 375°F.
In a bowl mix all ingredients except Puff pastry sheet.
Unfold the pastry sheet on a lightly floured surface.
Roll the pastry sheet lightly to remove the fold marks.
Spread the paneer and cheese mixture on the pastry sheet to within 1/2 inch of the edge.
Starting at a short side, roll up.
Refrigerate for 10 minutes or until the pastry is firm.
Cut the pastry crosswise into 20 (1/2-inch) slices.
Place the slices, cut-side down, onto 2 baking sheets.
Bake for 20 to 22 minutes or until golden brown.
Let it cool and serve with ketchup.