Spicy Vegetable Kati Roll Recipe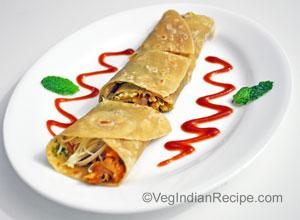 Serves 4 people
25 minutes
Spicy vegetable kati roll is easy and filling. Spiced vegetables and cheese are wrapped in roti / wrap. This kati roll is good as a snack or a meal.
Method For Roti / Wrap:
In a big bowl mix both flours.
Add yogurt, oil and salt, using enough water make a semi soft dough.
Knead the dough very well, cover it and keep aside for 1/2 hour.
Knead again and divide the dough into 4 equal portions.
Make ball and flattened it. Take each ball dust it in dry flour from both sides.
Place a skillet on medium heat so it will be a little hot by the time you are ready to cook the first roti / wrap.
Roll into a 7 – 8 inch roti, then place it on skillet.
When it starts bubbling on one side, apply little oil,turn it over.
Apply little oil on the other side, cook until golden brown, keep it aside.
Method For Spicy Vegetables Filling:
Heat a pan on a medium heat, add oil.
Add chopped green chili and saute for few seconds.
Add green bell pepper and cabbage, mix and stir fry for 3 to 4 minutes, stirring occationally.
Then add paneer, red chili powder, tomato ketchup, chat masala and salt, mix well.
Turn off the heat, divide them into four equal parst, and keep aside.
Method For Kati Roll:
Spread green chutney evenly on each roti / wrap.
Then spread one portion of the spicy vegetables filling in the centre of each roti / wrap.
Now sprinkle with grated cheese and roll up tightly.
When you want to serve, cook the rolls on a hot griddle.