Mango Lassi Recipe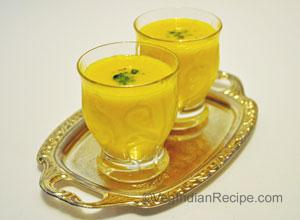 Serves 3 people
5 minutes
Mango Lassi is a popular beverage in Northern parts of India. Mango pulp and yogurt are blended to make delicious and refreshing smoothie. Mango Lassi is one of the most favorite beverages at Indian restaurants. This is a healthy version of mango lassi made using fat free yogurt.
Method:
Put mango pulp, yogurt, milk, ice cubes and sugar in a blender.
Blend for 2 minutes or until all ingredients are mixed well.
Pour Mango lassi into individual glasses and sprinkle with powdered Pistachio.
Lassi can be refrigerated for up to 1 day.