Gulab Jamun Recipe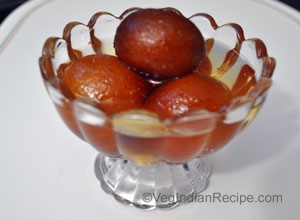 Serves 5 people
40 minutes
Gulab Jamun is a perfect dessert for any occasion. Prepared from milk powder, flour, milk and lightly flavored with cardamom.
Method:
In a bowl, mix together the milk powder, all purpose flour, baking powder, and cardamom.
Mix in the melted butter, then add in milk, and continue to mix until well blended.
Cover and let rest for 20 minutes.
In a large heavy bottom pan, stir together sugar, water and saffron. Bring it to boil, and simmer for 5 minutes. Keep aside.
Heat oil in frying pan over medium heat for at least 5 minutes.
Knead the dough, and form into about 20 small balls.
Reduce the heat of the oil to low, and fry the balls in one or two batches.
After jamun float, increase the heat to medium, and turn them frequently until light golden. Remove from the oil to paper towels using a slotted spoon.
Place fried balls into the pan with syrup. Simmer over medium heat for 5 minutes.
Serve warm or at room tempreture.