Kadhi Patra Recipe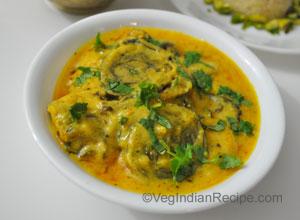 Serves 2 people
30 minutes
Kadhi Patra is a unique combination of popular Gujarati snack patra and kadhi. Savoury steamed Colocasia leaf roll simmered with sweet and spicy yogurt gravy tempered with spices. Enjoy with paratha or roti.
Method For Patra:
Wash patra leaves and pat dry.
In a big bowl add 1/2 cup of hot water, tamrind pulp and jaggery, mix well.
Add gram flour, green chilies, garam masala powder, red chili powder, coriander – cumin powder, salt and baking soda and make thick batter.
Take one patra leaf (use biggest leaf first) and place it up side down.
Spread batter evenly on leaf, put another leaf on top of first leaf and spread even layer of batter.
Fold from both sides, roll into a tight cylinder. Secure with a string.
Repeat same method with remaining leaves.
Steam for 20 minutes in steamer. Remove from steamer and cool it completly.
Slice into half inch thick slices. Keep it aside.
Method For Kadhi:
In big bowl, mix gram flour and yogurt till the mixture is smooth.
Then add water, green chili, grated ginger, turmeric powder, red chili powder, coriander powder, salt, sguar and curry leaves, mix well and keep aside.
Heat saucepan on medium high, add oil.
Add cumin seeds and fenugreek seeds wait till seeds crackle, add whole dried red chili, clove and cinnimon.
Gently pour yogurt mixture into it, and bring it boil.
Lower the heat and add sliced patra.
Simmer for 5 minutes stirring continously.
Garnish Kadhi Patra with chopped cilantro and serve hot with paratha or roti.