Banana Nut Muffin Recipe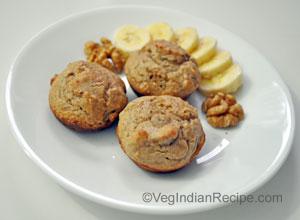 Bake delicious eggless Banana Nut muffin using muffin mix. Warm from the oven, this Banana Nut muffin makes a perfect morning breakfast or after-school snack.
Method:
Heat oven to 425°F.
Grease each of regular-size muffin cups.
In large bowl, beat banana nut muffin mix, oil and evaporated milk.
Divide batter evenly among muffin cups.
Bake 18 – 20 minutes or until golden brown.
Cool completely, about 30 minutes.
Store loosely covered at room temperature.
Notes:
Makes about 18 to 20 regular size muffins.