Salsa Recipe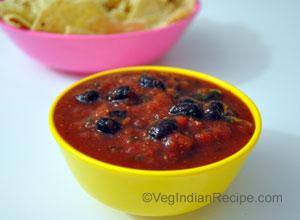 Serves 5 people
5 minutes
Salsa is used as a condiment in Mexican cuisine, usually made with tomatoes, chili and cilantro. Salsa is a great dip for tortilla chips.
Method:
In a food processor, add sliced jalapeno, chop until diced.
In a bowl mix together diced tomatoes, black beans (optional), cilantro, diced jalapeno, red chili powder, cumin-coriander powder, sugar and salt.
Serve Salsa with chips.
Tips:
This salsa can be very hot. And can be made without the jalapeno.