Cheese Puff Recipe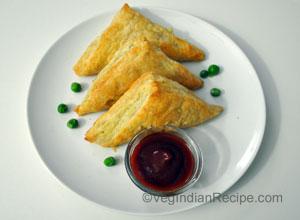 Serves 4 people
25 minutes
Cheese puffs are simply delicious, and simple to prepare only with two ingredients. Kids absolutely love these cheese puffs, can be served with ketchup for after school snack.
Method:
Heat the oven to 400°F.
Unfold 1 pastry sheet on a lightly floured surface.
Roll the pastry sheet into a 12-inch square.
Cut into 9 (4-inch) squares.
Place 1 tablespoon cheese the center of each square.
Brush the edges of the pastry with the water.
Fold the pastry over the cheese to form triangles.
Crimp the edges with a fork to seal.
Place the filled pastries onto baking sheets.
Bake for 20 minutes or until the puffs are golden brown.
Let the puffs cool on the baking sheets on wire racks for 10 minutes.