Farali Kadhi Recipe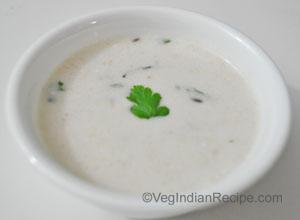 Serves 2 people
15 minutes
Farali kadhi is fasting special dish. A sweet and spicy yogurt curry thickened with rajigra flour flavoured with peanuts and cumin seeds. Enjoy with Samo khichadi.
Method:
In a blender, add raw peanuts and water blend into smooth paste, keep aside.
In a bowl mix yogurt, rajgira flour, curry leaves, green chilies, sugar, salt and 1 cups of water in a bowl and whisk well, keep aside.
Heat a heavy bottom sauce pan on medium heat, add oil or ghee.
Add the cumin seeds wait until seeds crackle.
Add the yogurt mixture, mix well and cook on a slow flame for 2 to 3 minutes, while stirring continuously to avoid any lump formation.
Add the peanut mixture slowly, mix well and cook on a slow flame for 4 to 5 minutes more, stirring occasionally.
Garnish with chopped cilantro and serve hot with Samo khichadi.