Paneer Bread Pakoda Recipe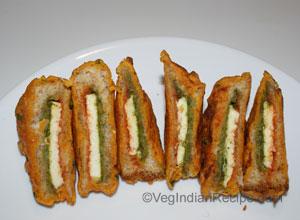 Serves 2 people
10 minutes
Bread Pakoda are found especially in North India as a form of street food. We have given it a twist by stuffing it with paneer. Paneer is good source of protein for vegetarian.
Method:
Cut the edges off the bread slices.
Fold the bread to create two sides, do not tear or divide the bread.
On each slice of bread, spread green chutney on one side and ketchup on the other side.
Place the slice of paneer, fold and cut each bread sandwich in half, keep aside.
For the batter, mix all the dry ingredients.
Slowly add in the water, to make a smooth batter. (Make sure there are no lumps.)
Heat oil in a deep pan on medium heat.
Once the oil is hot, dip the folded bread in the batter.
Make sure cover the entire bread in batter.
Place gently in the oil and cook it till its gets golden on one side.
Turn and cook on the other side.
When its ready take the Pakoda out and let it cool on a paper towel.
Cut it diagonally to see the wonderful colors of the pakoda.
Garnish with Chat masala and Serve hot.