Corn Kothimbir Vadi Recipe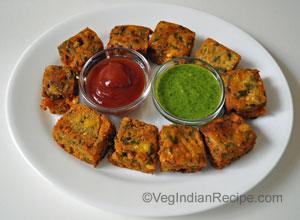 Serves 4 people
35 minutes
Corn kothimbir vadi is a popular vegetarian maharashtrian snack. Delicious corn and cilantro cake which is steamed and then fried until crispy. Enjoy with green chutney or ketchup.
Method:
In a large bowl, mix all the ingredients add 1/4 cup water and make thick batter.
Grease tray and pour the batter.
Steam for 20 to 25 minutes till a toothpick inserted in the middle comes out clean.
Let it cool for 15 minutes, unmold and cut into peices.
Heat oil in frying pan on medium heat.
Fry the peices till golden and crispy.
Serve hot with green chutney or ketchup.