Pasta With Pine Nuts And Broccoli Recipe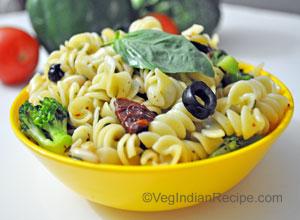 Serves 3 people
20 minutes
Pasta is stir-fried with rich flavors of pine nuts, broccoli, sun-dried tomatoes, black olives and basil for a quick and easy meal. Pasta with pine nuts and broccoli can be sereved as an entree with a salad and Cheese Bread or use as a side dish.
Method:
Cook the pasta as per instructions on the box and keep aside.
Heat a large pan on medium heat, add oil.
Add chopped basil, stir for few seconds.
Add chopped sun dried tomatoes, broccoli and olives, stir fry for 3 to 4 minutes until broccoli is tender and crisp.
Add cooked pasta, toasted pine nuts, red chili flakes and salt, mix well.
Stir fry 1 to 2 minutes, turn off the heat.
sereve with a salad and Cheese Bread or as a side dish.