Methi Gota Recipe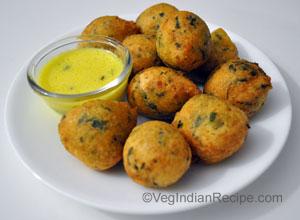 Serves 5 people
30 minutes
Methi gota is traditional and popular Gujarati snack. This fenugreek fritters are prepared using gram flour, spices, yogurt and fresh fenugreek leaves. Tastes delicious with kadhi, chutney or Indian Chai.
Method for Methi Gota:
In a pan dry roast semolina for 2 to 3 minutes, keep aside.
In a big bowl, mix gram flour, roasted semolina, fenugreek leaves, green chilies, yogurt, carom seeds, coriander seeds, black pepper, asafoetida, baking soda, sugar and salt.
Make batter using 1/2 cup water, add water if needed, till you get a consistency where you can drop spoonfuls into oil, not like a liquid. set aside for 15 minutes.
Heat oil in frying pan on high heat, when oil gets hot enough for frying, reduce flame to medium.
To check if the oil is ready, put one drop of batter in the oil, batter should come up right away.
Drop spoonfuls of dough, 5 to 6 at a time, into the frying pan. Fry until they are golden brown in color.
Drain on paper napkin and serve hot with kadhi or chutney.
Serve with kadhi, cup of tea or green chutney.
Method for Kadhi:
In a Bowl mix together yogurt, gram flour, turmeric powder, sugar salt and water.
Heat oil in a pan and add mustard seeds, wait until seeds crackle.
Add green chili and curry leaves, stir fry for few seconds.
Now add yogurt mixture, cook until thick consistency.
Serve with gota or fafda.