Chapati or Roti Recipe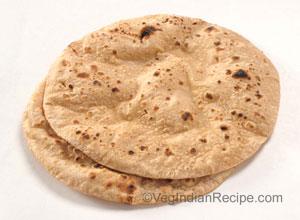 Serves 2 people
20 minutes
Chapati is an indian bread made of whole wheat flour and cooked on a skillet. Chapati is also known as roti, fulka or rotli.
Method:
Makes 8 chapatis
Mix all the ingredients and knead into a soft dough.
Divide the dough into 8 equal portions.
Make ball and flattened it. Take each ball dust it in dry flour from both sides.
Place a skillet on medium heat so it will be a little hot by the time you are ready to cook the first Chapatis.
Roll into a thin chapati,then place it on skillet.
When it starts bubbling on one side, turn it over and cook on the other side, after it has been cooked in skillet, quickly hold Chapati with tongs over medium heat until it puffs up.
Lightly Brush with melted butter or Ghee.