Kaju Draksh Ice Cream Recipe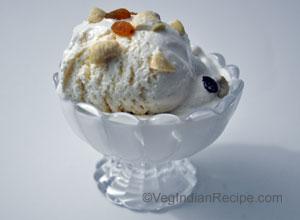 Serves 5 people
10 minutes
Kaju Draksh Ice Cream is a delightful combination of fruit and nut. Make this eggless ice cream at home by the quick and easy recipe.
Method:
In a large bowl combine ingredients,except cashew and raisin, mix well.
Pour into container.
Freeze for 4 hours, take out from freezer.
Let it rest at room temprature for 15 minutes.
Soak Raisin for 1 minute in hot water, drain raisin and spread over paper towel for few minutes.
Add cashew and raisin to ice cream, mix it well.
Freeze for 3 to 4 hours.