Kesar Falooda Recipe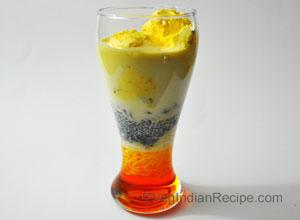 Serves 1 people
10 minutes
Falooda is a popular and traditional cold dessert in South Asia, made by mixing flavoured syrup with falooda sev, basil seeds, nuts, milk and ice cream.
Method:
Soak the basil seeds in water for 1 hour.
In a tall glass add 2 tablespoon kesar syrup, drained falooda sev.
Add basil seeds, chopped nuts and raisins and scoop of kesar pista ice cream.
Then pour milk and serve immediately.
Tips:
This recipe makes only one serving.
For Falooda Sev:
Mix cornflour, milk and saffron, keep aside.
Cook on medium heat in heavy bottom pan, stirring continuously, untill very thick, dough like consistency.
Grease inside of press with little oil, spoon in cooked mixture.
Hold press over a large bowl of icewater.
Press out spaghetti like sev into water.
Keep in refrigerator to chill till required, drain before using.