Khandvi Recipe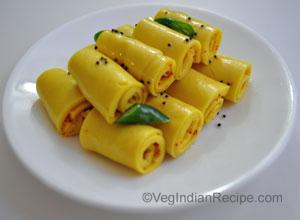 Serves 4 people
20 minutes
Khandvi is a popular gujarati snack. It is very simple to prepare, made using gram flour and yogurt with tempering of mustard seeds and spicy green chilies.
Method:
Lay out Aluminum Foil in long sheets on the counter top and grease lightly.
Mix together gram flour, yogurt, water, turmeric powder, asafoetida and salt make a smooth batter.
Heat one teaspoon oil in a non-stick pan on a low heat.
Pour gram flour batter to pan, stir constantly so that lumps do not form.
Keep stirring till the batter becomes thick, about 10-12 minutes.
Spoon batter from one edge of the foil and with a flat spatula, spread thinly.
Once the foil is completely covered, start on the next piece of foil. Repeat until all batter is spread.
Sprinkle red chili powder evenly on spread batter.
Gently lift the edge and roll up carefully like a Swiss roll.
Cut 1 inch pieces out of each big roll to get bite-sized khandvis.
Place these on a serving dish.
Heat oil in a small pan, add mustard seeds and green chilies and stir for few seconds.
Pour over khandvis and garnished with chopped cilantro leaves.