Peanut Noodle With Tofu Recipe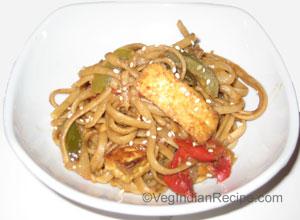 Serves 3 people
25 minutes
Peanut noodle with tofu is a thai inspired dish. Bite size chunks of tofu, colorful red and green bell peppers and wheat spaghetti are mixed with crunchy peanut sauce. It is a quick and healthy dish, also suitable for Vegans.
Method:
Cook the spaghetti as per instructions on the box and keep aside.
Cut the Tofu into 1/2 inch strips. Heat 1 tablespoon Olive oil in a grilling pan and grill the tofu for 3-4 minutes on medium heat. Flip and grill the other side too, keep aside.
In a bowl mix the soy sauce, peanut butter, honey, water, ginger and garlic. Make it into a sauce consistency.
Heat 1 tablespoon of Olive oil in a pan over medium heat and saute the onions and peppers for 5-7 minutes. (Do not fully cook the veggies, the veggies should still have a little crunch)
Now add the prepared sauce, spaghetti, grilled tofu and mix. Let it cook for 2-3 minutes until everything is coated with the sauce.
Garnish with sesame seed and serve hot.