Kopra Pak Recipe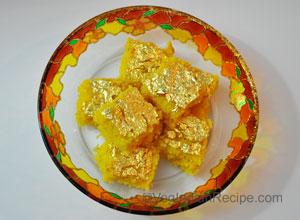 Serves 5 people
20 minutes
Kopra Pak is a very traditional Indian sweet made from coconut and sugar. Is often made during festivals. Grated coconut and khoya cooked with sugar and flavored with cardamom and saffron makes a quick and delectable coconut fudge.
Method:
In a small bowl, add 1 teaspoon of warm milk and soak saffron strands in milk.
After 5 minutes rub until saffron dissolves milk.
Heat a heavy bottom pan over medium heat, add ghee.
Add grated coconut and saute for 2-3 minutes.
Add sugar and khoya, mix well.
Stir continuously until moisture has evaporated.
Add dissolved saffron and mix well, cook for 1 more minute.
Turn off the heat and add cardamom powder, mix well.
Spread coconut mixture on 9 x 9 inch foil or 9 x 9 inch baking tray and allow it to cool.
Decorate with edible gold or silver foil and cut into squares. Enjoy Kopra Pak!