Vegetable Spring Roll Recipe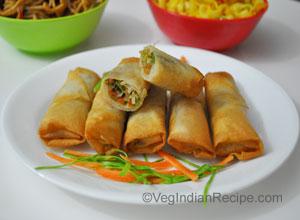 Serves 4 people
20 minutes
Vegetable Spring Roll is a popular Chinese appetizer, enjoyed by adults and kids. Spring rolls are wrapped with cabbage, carrots, green beans and noodles seasoned with soy sauce and black pepper, deep fried until golden brown. Enjoy crispy Vegetable Spring Roll!
Method:
In a small bowl mix together all-purpose flour and water and keep aside.
Run a knife through the noodles to chop them into smaller pieces and keep aside.
Heat a non stick pan on medium high heat, add oil.
Add green beans and carrots and stir-fry for half a minute.
Add cabbage and continue to stir-fry for 2-3 minutes.
Add soy sauce, black pepper powder and salt.
Add noddles and stir-fry for one more minute.
Remove from heat and cool the filling to room temperature.
To assemble rolls, place a spring roll wrapper on a clean working surface.
Place 2-3 tablespoon of the filling on the wrapper, spread the filling lengthwise.
Roll the spring roll wrapper tightly, sealing the ends securely with flour paste.
Keep rolls under a damp cloth.
Heat oil in frying pan on medium high heat.
Gently slide into the hot oil and deep fry till golden and crisp.
Drain on absorbent paper.
Enjoy crispy hot Vegetable Spring Roll!