Nankhatai Recipe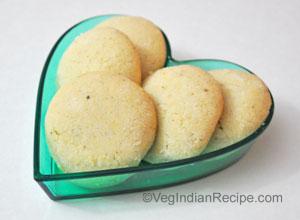 Serves 5 people
30 minutes
Nankhatais are eggless Indian shortbread style cookies. This traditional cookies are made with semolina, all-purpose flour, clarified butter and sugar, mildly flavored with cardamom and nutmeg. Enjoy crisp and buttery Nankhatais with a cup of hot tea.
Method:
Pre-heat oven to 350°F (175°C).
In a big bowl, add All-purpose flour, almond powder, gram flour, cardamom powder, nutmeg powder and sugar, mix well.
Combine flour and sugar mixture with melted ghee or shortening to form a soft dough.
Divide dough into 24 equal portions and roll each portion into smooth balls.
Press each ball between your palms lightly.
Place ball 1 inches apart onto the cookie sheet.
Bake on the middle rack for about 20 to 22 minutes or until Nankhatai are lightly gold brown.
Remove from oven let Nankhatais cool for 5 minutes before taking them off the cookie sheet.
Store in air tight container for upto a 10 days.