French Bread Pizza Recipe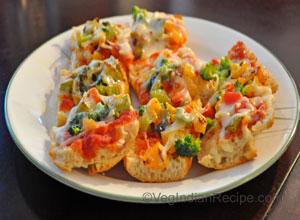 Serves 2 people
15 minutes
Toasted French bread topped with green, red and yellow bell peppers and broccoli with melted cheese for a great tasting veggie pizza. This quick and budget friendly pizza is prepared in a snap. Enjoy as lunch or dinner. Kids love this French bread pizza.
Method:
Cut French bread loaf in half and then cut it lengthwise and place them on a baking sheet.
Spread them with about two tablespoon tomato sauce.
Sprinkle with diced bell peppers and broccoli florets.
Sprinkle with mozzarella cheese and italian seasoning.
Bake in a preheated 400 degree oven for 10-12 minutes, or until the crust is crispy and the cheese is melted.
Serve hot French bread pizza for lunch or dinner.
Method for Tomato Sauce:
In a heavy bottom sauce pan, mix together tomato sauce, dried oregano, red chili powder, sugar and salt.
Boil for 6 to 7 minutes on medium heat stirring occasionally, and keep aside.