Bhaji on Toast Recipe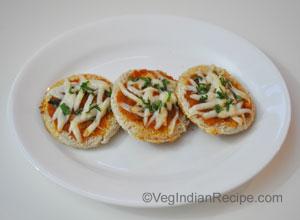 Serves 3 people
10 minutes
Bhaji on toast is nice twist to a regular pav bhaji. Bhaji topped on a toast makes it easy to grab & eat. You can even use whole wheat bread to make this a healthy recipe. Kids love this fast food with cheese on top. Enjoy this quick and easy bhaji on toast recipe.
Method:
Preheat oven to 350°F (175°C).
Cut the edges off the bread slices.
Spread bhaji evenly over bread slices leaving about 1/4-inch of edge clear.
Sprinkle with cheese evenly.
Bake in preheated oven for 6 to 8 minutes or until golden brown.
Sprinkle chopped cilantro and serve. Enjoy Bhaji on Toast!